How to collect all the photos at my wedding?
Every wedding is a unique moment for the bride and groom. Do you want to collect all the memories of this wonderful event ? With Eventer, you can gather all the photos, videos, and GIFs taken by your guests in the same album so you can have access to all images taken from different points of view!
We offer a personalized support as well as the possibility to connect the photos of your photographer and/or photobooth in this album. All the content is in HD, so you can have beautiful memories of your wedding in your pocket!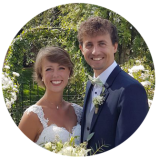 Hélène & Nathan
September 3rd 2018
A BIG THANK YOU for your great application that was an incredible success all day, evening, night and even the next day! This contributed to the success of our wedding! Our photographers also contributed a lot and posted a lot of pictures. It was magical: people had a great time and we now have almost 400 photos capturing some of the most unusual moments of the day! An incredible advantage of your application, is that it allows you to capture unique moments in places where neither we nor our photographers could have been! This allows us to discover, share and relive these moments afterwards with the eyes of our loved ones!
[…]