Comment récolter toutes les photos de mon mariage ?
Chaque mariage est un moment unique pour les mariés. Vous souhaitez récolter toutes les photos de ce merveilleux événement ? Grâce à Eventer, vous pouvez rassembler ces souvenirs (photos, videos, GIFs) pris par vos invités dans un même album pour avoir accès à toutes les images de points de vue différents !
Nous vous offrons un accompagnement personnalisé et la possibilité d'intégrer les photos de votre photographe et/ou photobooth dans cet album. Tous les contenus sont en HD, vous pouvez donc avoir de superbes souvenirs de votre mariage au creux de votre poche !
How to collect all the photos at my wedding?
Every wedding is a unique moment for the bride and groom. Do you want to collect all the memories of this wonderful event ? With Eventer, you can gather all the photos, videos, and GIFs taken by your guests in the same album so you can have access to all images taken from different points of view!
We offer a personalized support as well as the possibility to connect the photos of your photographer and/or photobooth in this album. All the content is in HD, so you can have beautiful memories of your wedding in your pocket!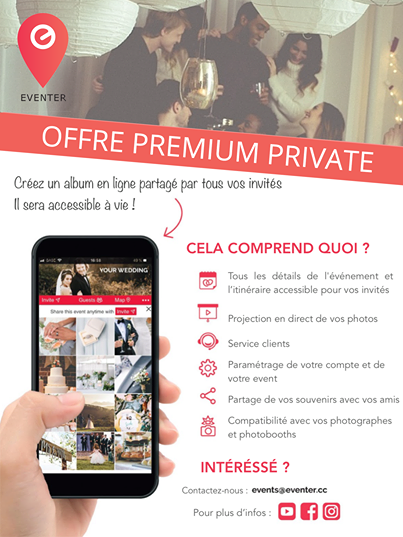 To collect all the content from your Wedding:
Pour récolter tous les contenus de votre mariage :